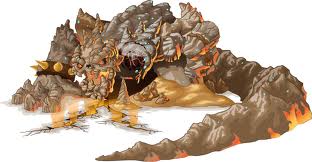 Location
Found in: Mount Gemma,on the top of volcano.
Details
MOVES-
Sinkhole-25% accuracy but its damage is 1000, a fatal move.
Gem strike-a massively powerful earth attack with 90% accuracy which deals 25 damage(usually higher).
Rock smash-similar to gem strike except it is a physical move.
Sacred stones-raises the earth elememtum's defense.
ITS STATS-
Health- 400+
EA- Strong
ED- Max
PA- Max
PD- Moderate
Speed- Max
Strategy Bring WIND as it cannot remove the weakness. Lower its attacks till you can't low further. Then increase your defence till 10. It will start doing no effect on you. Then lower its dfence until it can't lower further and if it does its Sinkhole on you and unluckly it hits you then no problem. You can destroy it even by a level 1 miscrit. Do smack or any thing else, it will be completly destroyed and You win.
Ad blocker interference detected!
Wikia is a free-to-use site that makes money from advertising. We have a modified experience for viewers using ad blockers

Wikia is not accessible if you've made further modifications. Remove the custom ad blocker rule(s) and the page will load as expected.