Ad blocker interference detected!
Wikia is a free-to-use site that makes money from advertising. We have a modified experience for viewers using ad blockers

Wikia is not accessible if you've made further modifications. Remove the custom ad blocker rule(s) and the page will load as expected.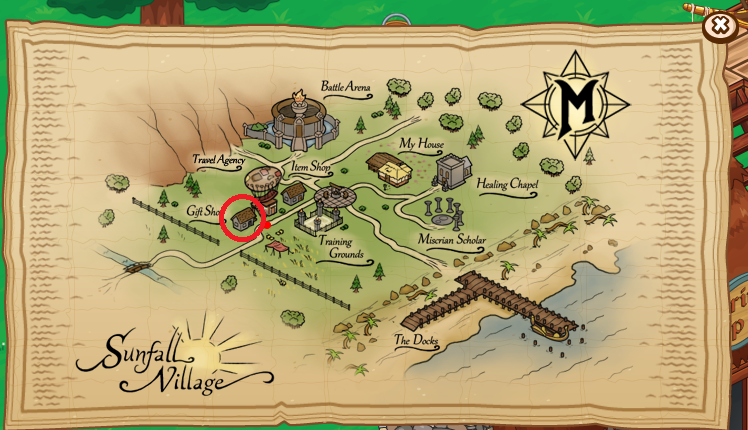 <<<<<<----Gift shop location
In Gift shop you can find rare, common, limited miscrits.
You can buy them for [Gems] or Facebook Credit, and no there is no other way to buy them.. well you still can try catching them. Gift shop have all common Sunfall Village miscrits, and it have some rare ones, but just for limited time. You can also buy holiday ones, like Valentine, St.patricks or easter ones on that holiday.
List of miscrits that are for sale ( last update 22th of March 2012):
Miscrit
Price
Dark Arigato
500 gems or 149 FC
Winnebeargo
35 FC
Boltzee
95 FC
Cubsprout
25 gems or 10 FC
Sparkupine
25 gems or 10 FC
Hydroseal
25 gems or 10 FC
Snortus
50 gems or 20 FC
Quirk

50 gems or 20 FC

Lumera

50 gems or 20 FC

Flameling

50 gems or 20 FC

Snatcher
75 gems or 30 FC
Elefauna

75 gems or 30 FC

Nessy

75 gems or 30 FC

Hotfoot

75 gems or 30 FC

Twiggum

100 gems or 40 FC

Shellbee

100 gems or 40 FC

Squibee

100 gems or 40 FC

Steamguin

100 gems or 40 FC

Statikat
125 gems or 50 FC
Equestrion

125 gems or 50 FC

Drilldent

125 gems or 50 FC

Kiloray
150 gems or 60 FC
Breezycheeks

150 gems or 60 FC

Mumbah

150 gems or 60 FC

Aria
175 gems or 70 FC
Jellyshock

175 gems or 70 FC

Croaky

175 gems or 70 FC

Sparkslug
200 gems or 80 FC
Craggy

200 gems or 80 FC

papa

mama

450 plat

450 plat

Sparkspeck
225 gems or 90 FC
Grubbean

225 gems or 90 FC

Echino

225 gems or 90 FC

Wavesling

225 gems or 90 FC

Sparkitten
250 gems or 100 FC
Arigato

250 gems or 100 FC

Jack

250 gems or 100 FC

Quebble
275 gems or 110 FC
Digsy

275 gems or 110 FC

Hippoke

275 gems or 110 FC

Leggy
300 gems or 120 FC
Orcatide

300 gems or 120 FC

Nero
50 FC