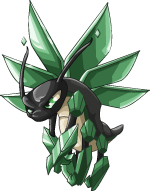 Type: Earth
Rarity: Rare
Location:The Mansion
Evolution
Evolution 1:
Description: "Each part of Raldio's wings has a terribly sharp edge that can easily cut nearly any type of material."
Evolution 2:
Description: "Greenious's hearing is unparalleled. It knows what is happening on every floor of the Mansion at any given time."
Evolution 3:
Description: "Srage controls the crystals around its body telepathically, though it does not use them as weapons. They seem to have some higher purpose."
Evolution 4:
Description: "Verdauntless takes great pride in keeping all of its gems spotlessly polished and gleaming, even right after a battle."
Stats
Health:Strong
Elemental Attack:Max
Elemental Defense:Strong
Physical Attack:Strong 
Physical Defense:Elite
Speed:Strong
Known Skills
Skill Name
Attack Power
Accuracy
Target
Effect
Element
Level

1

Rubble
earth
simple earth attack
7
100

1

Shy Smile
--
lowers your foes physical and elemental attack by 5
--
95

4

Smack
physical
simple physical attack
7
100

7

Power Up
--
raises your physical and elemental attack by 5
5
100

10

Pincer Polish
earth
15

13

Impact
physical
13

16

Sleep
--
16

19

Feebler
--
19

22

Land slide

Earth
22

25

Wallop
Physical
25

28

Unbreakable
--
28

30

Shiny Stones
Earth
30
Ad blocker interference detected!
Wikia is a free-to-use site that makes money from advertising. We have a modified experience for viewers using ad blockers

Wikia is not accessible if you've made further modifications. Remove the custom ad blocker rule(s) and the page will load as expected.