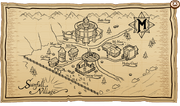 Places
Wishing Well
The Wishing Well is located in the center of Sunfall Village. Here, you can receive either gold or training points for free. You may make a wish only once every four hours. You can click on it to see how much time is left until you can make another wish.
Battle Arena
The Battle Arena is north of the town. It's lodge between the Miscrian Forest and Mount Gemma. It is the most important part of Sunfall Village. This is where you test your mettle agains other real adventures.
Your House
Your house is located just to the right of the Wishing Well. This is where all your Miscrits live when they aren't battling alongside you. Your current team is located inside the house. Outside in the back yard is where your inactive Miscrits roam. Click on any of your Miscrits inside or outside your house to change which Miscrits are on your active Team. In addition, you can change your appearance at your vanity mirror. Soon, your friend can visit your house, so decorate it and make it the best house ever. We suck so much.
Healing Chapel
The Healing Chapel is located on the east side of town. It's just past your house on the path towards the beach. This is where you heal all your Miscrits. It's free to heal them all once an hour. Also, this will restore your Captures so you can get more Miscrits
See also
Ad blocker interference detected!
Wikia is a free-to-use site that makes money from advertising. We have a modified experience for viewers using ad blockers

Wikia is not accessible if you've made further modifications. Remove the custom ad blocker rule(s) and the page will load as expected.